SURPRISE – Bradley Beal Snubbed!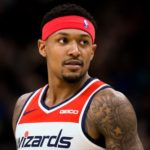 I know coaches look for players on winning teams to place on the all-star roster, but sometimes you just have to look at the player and what he does for his team, i.e. Bradley Beal!  Just look at the Wizard's roster.  Without John Wall, who else can you honestly say is an NBA talented player that you can see on a winning team like Milwaukee or Boston?  Sure, there is some talent on the roster with Bertans, Bryant and Brown Jr., but that's about it.  Every night Bradley Beal enjoys being the focus of opposing defenses and often gets double teamed.  With that said, here are the 6'3″ Bradley Beal's stats this year…
28.7 point per game (up over 8 points per game from his career average)
6.4 assists per game (up 2.5 assists per game from his career average)
85% free throw percentage (up almost 5% from his career average)
I understand their record is only 16 – 31, but I go back to my earlier point… who else is on that team?  Bradley Beal's snub even made the debate on Inside the NBA on TNT!
I agree with Shaq, the All-Star game is for INDIVIDUAL accomplishments, not team accomplishments.  Kenny tries to raise the point it may be more difficult for a player to average 20 on a winning team with another All-Star player on the roster.  While that may be the case, I argue Bradley Beal's accomplishment is even more impressive since there aren't any other real threats on the court.
Some of the other players that may have been snubbed include, Zach Lavine, Derrick Rose, Andre Drummond, and Devin Booker.  In my opinion, the All-Star game is meant to be a "carnival" like time for the fans to enjoy.  Being held in Chicago, it would have been fun to see Rose return or Zach play in front of his home crowd.  However, I don't know if you can say those players were necessarily snubbed.  Beal was clearly snubbed!

Bradley Beal Could Have Played Back in the Day
The All-Star game used to be a lot of fun to watch.  Back in my day (I know I'm aging myself now), I loved watching Jordan, Bird, and Magic.  I also come from an era where defense actually was present in the NBA.  I never understood why the NBA took away hand checking especially with the increase in 3-point shooting around the league.  That being said, I believe Beal would have fit right into that era of basketball.  He's not only a 3-point shooter, but he can drive to the basket with authority.  I don't believe he would have fallen off too much with the tougher defenders.  Beal has an all-around floor game and reminds me a bit of Ray Allen.
Bradley Beal's Contract
According to Spotrac…
Bradley Beal signed a 5 year / $127,171,313 contract with the Washington Wizards, including $127,171,313 guaranteed, and an annual average salary of $25,434,263. In 2019-20, Beal will earn a base salary of $27,093,019, while carrying a cap hit of $27,093,019 and a dead cap value of $27,093,019.
You can view the breakdown of the contract by clicking here.
Why does this matter?  Considering today's NBA salaries Washington has an All-Star player (yes I said All-Star) at a very reasonable contract.  Just last year the Chicago Bulls traded for Otto Porter basically making the same money with MUCH LESS production.  There are many examples of players in the NBA making crazy money with much less production than Beal.  I know Washington feels stuck with the John Wall contract, which is ridiculous, but I hope they are not thinking of trading Beal.  It's not easy to attract the top players anymore except for a few cities and teams truly need to hold onto their All-Stars (yes I said it again)!