Dreadful Outlook for the Chicago Bulls!
I hate having to write this article but as a life long fan of the Chicago Bulls, I feel it is necessary to call out ownership and management for the complete and utter failure they have compiled.  I know this article is rather harsh in tone, but I'm emotional with my displeasure of a franchise I couldn't wait to watch a few years ago.  Today, the Chicago Bulls have become an inconsequential event.  I honestly don't look forward or even remember when they are playing.  And judging from attendance and other fans, I'm not the only one.  I think the Bulls are on a dangerous path.  Once fans begin to lose interest, it may take a long time to bring them back, unless Anthony Davis decides to sign with the Bulls (oh wait, the Bulls don't have any money to pay him).
It's been over 20 years now since the Bulls won their 6th championship.  I've heard so many excuses why John Paxson didn't trade players or couldn't sign free agents.  I've heard a million times that the Bulls have CAP FLEXIBILITY just to find out that they messed that up as well.  I hate to see this once-proud franchise and envy of the NBA become the biggest joke and the undesirable franchise it has become.
Chicago Bulls Bad Contracts
Let's see just how John Paxson has completely messed up the roster.  Immediately, the trade for Otto Porter Jr. is at the top of the list.  His base salary for this year, according to Spotrac, is $27,250,575 and for next year is $28,489,238.  His career stats, when he actually does play, are 11 PPG, 5 RPG, 1.5 APG.  Those numbers just don't equate with the ridiculous salary he's being paid!  Next year he will be making almost $10 million more than Zach LaVine, the Bulls best player.  That's right, I SAID NEXT YEAR.  They have him on the roster through the 2020-21 NBA season.
The second awful contract John Paxson offered was to Cristiano Felicio, which was a 4-year $32 million dollar deal.  How does that make any sense?  In fact, Felicio wasn't even part of the roster earlier in the season and is only back with the Bulls due to so many players being injured.  Felicio's contract also expires at the end of the 2020-21 NBA season.  Just in case you're wondering, Felicio's career stats are 4.5 PPG and 4 RPG.  Does that production warrant locking him into a 4-year deal at $32 million dollars?
I know the salaries in the NBA are way overinflated.  However, I don't believe the 3-year deal for $30 million to Tomas Satoransky was very necessary.  He is an average bench player on a good team.  I believe Paxson should have passed on signing Tomas since the Bulls already had 3 very average points guards on the team, whom they kept.  Paxson was right to look for a point guard to lead the team, however, that point guard should have been Malcolm Brogdon or maybe even Ricky Rubio.  I don't believe the Chicago Bulls even put in a call to check on those players.  Perhaps it's because they are paying Otto Porter Jr. and Felicio a combined $36 million dollars!!!!  So instead of improving the team, the Chicago Bulls had to go cheap, hence, they signed Tomas Satoransky.  This is awful mismanagement of the salary cap.
It's time to recognize that John Paxson has not done a very good job overall.  I understand there were a few years with Noah and Rose that had us all believing he had finally put together a championship-level roster.  And perhaps if Rose doesn't tear his ACL the Chicago Bulls may have had their shot at a championship.

Chicago Bulls Head Coaches
Another large responsibility of the GM is to hire the best coaching staff.  Here is another area where John Paxson and the Chicago Bulls have failed.  The first coach under John Paxson was Scott Skiles, who had a decent run coaching the Bulls but was under 500 overall (165-172).  Paxson followed up Skiles by hiring an inexperienced coach in Vinny Del Negro.  The Bulls roster was starting to take shape with Luol Deng, Kirk Hinrich, Andres Nocioni, Tyrus Thomas, Ben Gordon, Brad Miller, and John Salmons.  The Bulls also had Joakim Noah on the roster and drafted Derrick Rose that off-season.  This roster consisted of experienced players who have been through the playoffs and just added the number 1 overall pick in Derrick Rose to join them.  So why would an organization hire an inexperienced coach?  Vinny had no idea what he was doing and had no respect from the players.  In addition, Paxson and Del Negro had an altercation.  With that roster, the correct move would have been to hire a playoff experienced veteran head coach.  Under Del Negro, there was no player development.  Some want to argue that Rose developed under Vinny, however, I believe that was all Rose and had nothing to do with Vinny.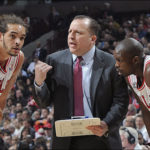 Paxson's next hire was fantastic!  Although Tom Thibodeau did not have head coaching experience, he had been an NBA coach for many years.  He was one of the top head coaching prospects and the Bulls got him.  It finally looked like Paxson had assembled the right coach with the right team to compete for a championship.  Under Thibodeau, Luol Deng became a force and Joakim Noah flourished.  The Bulls were consistently at the top of the Eastern Conference standings and a competitor for the NBA Finals.  A very tough-minded, defensive team who played with great passion.  We all know what happened to Derrick Rose.  However, does everyone remember how well and tough the Bulls continued to compete without Derrick?  Does anyone think that the next 2 coaching hires would have gotten the same result?
Speaking of the next 2 coaching hires… Fred Hoiberg was a complete failure!  Once again Paxson must think he's a basketball genius.  To hire a college coach, who's highly ranked teams choked in the NCAA Tournament, and offer him a 5-year guaranteed contract was flat out foolish.   Just like Vinny Del Negro, Hoiberg displayed his lack of offensive play calling when games were on the line, defensive structure (non-existent), and overall understanding of game flow (limited at best).  He totally looked overwhelmed and lost the respect of the players within a very short time.  What the heck did Paxson see in him to offer a 5-year guaranteed contract?  Not much I suppose because within the first couple of years Paxson lost faith in Hoiberg.  However, it's Paxson's fault for offering such an expensive long-term deal that handcuffed the Bulls from making the proper coaching change when it was clearly evident Hoiberg was no good.
The jury is still out on Jim Boylen, however, it doesn't look very good.  Paxson hired Boylen to be a hard-nosed coach like Thibodeau.  The problem is… he's not Thibodeau.  Granted the Bulls roster is not as talented as when Thibodeau was coaching, but there is talent on the roster.  Boylen has no idea how to use his players effectively.  Lauri Markkanen was supposed to be a star by now.  Denzel Valentine is the best shooter on the team and was sitting on the bench (until all the injuries gave him playing time).  Coby White needs to play more minutes to develop and gain experience.  I lost my confidence in Boylen after the Bulls blew yet another 4th quarter lead early in the season to the Lakers.  When questioned after the game why he didn't bring back his starters earlier, he answered: "I'm trying to develop 15 players". WHAT?  This is the NBA.  Your job is to WIN games not develop your 15th man on the bench.  If that's what you enjoy, there are many high school and college jobs available.
How to Fix the Chicago Bulls
Of course, this is not an easy answer.  John Paxson as effectively made the Chicago Bulls the Washington Generals of the NBA.  No high-end free agent has any thought of joining them.  However, as I mentioned earlier, the Bulls actually have some talent on the roster.  If they are not able to obtain an alpha-type player, then hiring an alpha-type coach will help.  Here are some of the moves I think and hope they make…
Move John Paxson out of basketball decision making role
Move Gar Foreman out of basketball decision making role
Hire a proven basketball mind.
Hire an alpha-type coach.  Maybe rehire Tom Thibodeau?
The 2020 free agent list looks slim.  Many players have a Player Option and I suspect they will stay with their teams.  Of course, Anthony Davis is at the top of the list.  However, as I mentioned earlier, the Bulls have set themselves up poorly financially.
Begin to build a competitive team.  Free agent Marcus Morris would be a nice fit and the Bulls may be able to sign him in the offseason.
The Bulls may have to consider packaging Markkanen, Carter Jr. or draft picks with Otto Porter Jr. to free up salary space if they can land a top free agent.
This is the hot mess that John Paxson has left the Bulls in.  Who knows how long it may take to turn this ship around.  Look how long the Knicks have been struggling with their hot mess.  Will the fans even be there if and when the Bulls do turn it around?