6 Best Podcast Hosting Platforms
Podcast hosting is a service that helps store and deliver media files associated with your podcast. Choosing a podcast hosting platform is critical for your podcast's success since it determines how fast you grow your audience and how you manage your podcast files. Therefore, before you commit to a specific service, you should assess your podcast's needs and choose the hosting platform that suits those needs best.
Here's a quick breakdown of 6 different podcast hosting platforms and their features:
Buzzsprout
Buzzsprout focuses on giving the new podcasters a smooth experience. You can easily navigate through its interface, and there is also a step-by-step guide for making submissions to Spotify or iTunes. If you need more control, you can also link it to your WordPress website.
Buzzsprout has a free offer that supports audio for up to 2 hours. The free service does not support ads, and the episodes last for 90 days. However, there are other premium offers for additional hours of audio and bandwidth.
Another nice feature Buzzsprout offers is its step-by-step guide on How To Start a Podcast.  If you are just beginning your podcast, you may find this content very helpful.
Captivate
Captivate is one of the best podcast hosting platforms in terms of design. The dashboard is easy to understand with clear but detailed statistical data. There are also tips to guide you on aspects such as bitrate, publishing options, and complex statistics if you're a beginner.
Captivate has a dedicated plugin that enables you to integrate players into your WordPress site. This also means that you can import all the libraries in your other platforms using a few clicks.
All plans feature:
Advanced Analytics
Unlimited Podcasts
Free Import Tool
Stunning Podcast Player
Built-In Calls To Action
Automatic Podcast Website
Unlimited Team Members
Podcast Marketing
Click Here to get a 7-Day free trial.
Transistor
Transistor is a powerful, but very easy to use hosting service for both beginners and professionals. Unlike most hosting plans, their hosting podcast plans are unlimited, so you won't be charged for upload hours.
Some people think you upload your podcast directly to Apple Podcasts / iTunes. That's not how it works! Apple (and the other podcast players) read your RSS feed and point to your audio files. It's up to you to host them.
Apart from enabling you to upload and publish your podcast media easily, Transistor also offers podcast analytics that tells you how each of your episodes performed. In addition, they have an embed code that enables you to upload your episodes to a WordPress site. They can create a website for you if you don't have one.
Click Here to start your 14-Day free trial.
Simplecast
As the name suggests, Simplecast offers something 'simple.' But don't interpret that to mean basic or lacking.
Simplecast has a monthly plan of $15 that allows you to set your podcast in as little as 10 minutes. The other benefits that accompany it include thorough analytics and unlimited storage and bandwidth. With its hosted website, you can integrate it into your domain for better web dominance.
Podbean
With unlimited podcast hosting plans and bandwidth, Podbean is one of the best hosting services in the market.
It has excellent design tools that enable you to customize your website's themes. Integrating the podcast player into your WordPress pages and posts is also easy.
One of the outstanding features of Podbean is the crowdfunding option. This helps you to monetize your content. Additionally, there are podcast promotion tools that send your episodes to the top podcast directories, so your audience can use their preferred tools to consume your content.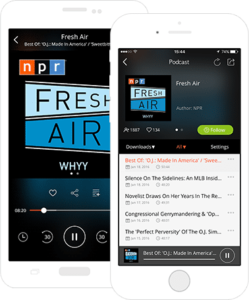 Another outstanding feature Podbean offers is its iPhone and Android app. You can record, edit, and publish podcasts right from your phone with the free, easy-to-use Podbean app. It's designed to make you sound great, regardless of your skill level.
Built-in audio recorder app
Simply put your phone in front of you and start to record. It's the most convenient and complete audio recorder, with no expensive equipment needed.
Vivid sound effects
The Podbean audio recorder comes with brand new sound effects, echo effects, and automatic tone adjustment to help you get as creative as you want with your episodes.
Rich background music
Choose from 50+ background tracks with different styles and moods. Plus, import music into the audio recorder from iCloud, Dropbox, or your own phone storage.
Podbean offers one of the more generous free podcast hosting services with a 5-hour limited upload plan which includes basic stats. The free plan supports mp3 file format and provides 5 Hours total storage space (500MB) and 100GB monthly bandwidth, basic podcast stats, etc.
Castos
Castos podcast hosting owns the Seriously Simple Podcasting WordPress plugin that allows you to manage your feed and upload episodes from WordPress easily.
You get unlimited download bandwidth and upload volume from as low as $19/month with an embeddable podcast player for your website. This plan also comes with in-depth stats and one-click import service for episodes from elsewhere.
Conclusion
In the last decade, podcasting has seen significant growth, which has been accompanied by various podcast hosting platforms. That being said… there are still less than 1 million podcasters vs. over 600 million bloggers.  When choosing your podcast hosting platform, consider, among other things, whether you want a free plan, whether you want an easy to use hosting platform, and whether you wish to have your podcast on WordPress.
We hope you found this article helpful in comparing a few popular podcast hosting platforms.  If you enjoyed this article you may also wish to read our article regarding What's The BEST Email Marketing Platform? Here Are 6 Reasons… and Best Web Hosting Service For Beginners.  Please take a moment to read our disclosures regarding this article.